How Much Can a Jeep Wrangler Tow?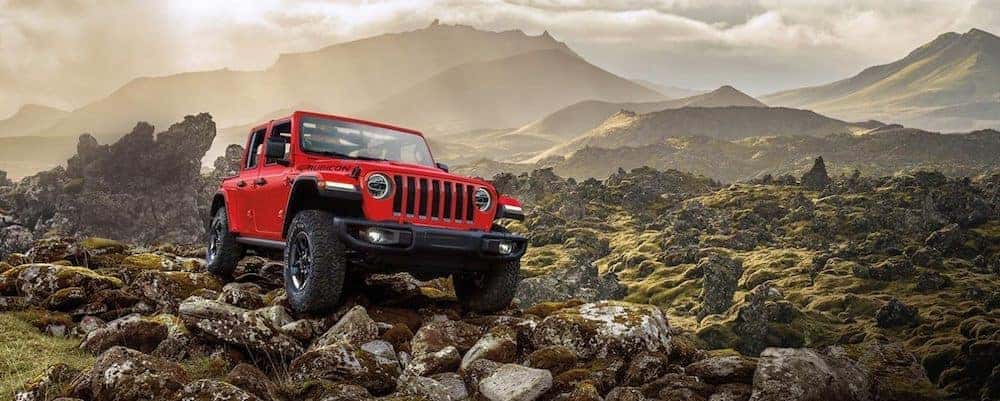 The 2020 Jeep Wrangler is famous for its powerful and diverse configurations, whether it's navigating through McKinney or going off-road near Sherman. Have you asked yourself, "How much can a Jeep Wrangler tow?" It's a good question because surely a vehicle as powerful as the Jeep Wrangler can tow an impressive amount. Take a look at the new Jeep Wrangler towing capacity with Bonham Chrysler Dodge Jeep Ram.
Jeep Wrangler Towing Capacity
The Jeep Wrangler towing capacity ranges from 2,000-3,500 pounds. All two-door Jeep Wrangler trim levels can tow 2,000, while all four-door Jeep Wrangler trim levels can handle up to 3,500 pounds.
Jeep Wrangler Towing Features
While towing capacity is primarily based on its powertrain and drivetrain, the Jeep Wrangler has plenty of other features that make towing safer and easier. While some of these towing tools come standard or in special packages, you can further customize your towing experience by equipping your Jeep Wrangler with Mopar® parts and accessories from the Bonham Chrysler Dodge Jeep Ram parts department.  Here are some of the Jeep Wrangler towing features and tools:
240-Amp Alternator
Winch and Control Light Bars
Programmable Aux Switches
700-Amp Maintenance-Free Battery
Seven and Four-Pin Wiring Harness
Class II Tow Receiver Hitch
Tow hooks
Jeep Wrangler 4×4 System
A 4×4 system isn't required for towing but it makes towing easier and safer by providing grip and traction in all weather and road conditions in Denison. The Jeep Wrangler offers three 4×4 systems. Here's a rundown of the available Jeep Wrangler 4×4 systems:
Selec-Trac® 4×4 — Engages 2-wheel drive for good road conditions, but switches to 4×4 if you encounter snow, rain, ice, or mud.
Rock-Trac® 4×4 — 4:1 low gear ratio, Tru-Lok® electronic-locking differentials, and electronic front sway bar disconnect to deliver excellent off-road performance.
Command-Trac® 4×4 — Command-Trac® allows you to select a neutral-range option for heavy towing on flat terrain. It's excellent on unsteady surfaces and rough roads, with a 2.72:1 low gear ratio.
Equip Your Jeep Wrangler for Towing at Bonham Chrysler Dodge Jeep Ram
We hope we've answered, the question, "How much can a Jeep Wrangler tow" for you, and that you're ready to get into your 2020 Jeep Wrangler. Use our Mopar® coupons to further equip your Jeep Wrangler with your favorite towing equipment. See how the power of the Jeep Wrangler compares to the towing capacity of the 2020 RAM 2500.
More from Bonham Chrysler Dodge Jeep Ram
If you're a McKinney driver who needs a pickup that can handle heavy loads, the 2020 RAM 2500 is the truck for you! With 19,680 pounds of maximum towing capacity and an array of safety features that will take the stress out of towing, you'll appreciate the power and performance of the RAM 2500. Learn…

Bonham-area truck drivers are rightfully curious about the towing capabilities of the new 2020 RAM 1500. So, how much can a RAM 1500 tow? This light-duty truck has earned best-in-class towing with a max towing capacity of 12,750 pounds. In this article, Bonham Chrysler Dodge Jeep Ram informs drivers about the engines and technology features that make this new…

The 2020 Jeep Wrangler is famous for its powerful and diverse configurations, whether it's navigating through McKinney or going off-road near Sherman. Have you asked yourself, "How much can a Jeep Wrangler tow?" It's a good question because surely a vehicle as powerful as the Jeep Wrangler can tow an impressive amount. Take a look…